This is a sponsored post written by me on behalf of Diaper Genie® Elite and Babies R Us for IZEA. All opinions are 100% mine.
You can't remember when you recently had time for yourself. And understandably. With the baby, mommy time isn't exactly high on your priority list. Too many tasks clog your schedule. Any few minutes you manage to find is spent taking care of things you've neglected or need to catch up on. And sometimes you'd rather just sleep than bother with time for yourself.
Still, it'd be nice to have mommy time—those glorious moments doing whatever you want to do. How can you find the time, especially with baby duties calling?
Take turns with another adult.
After the twins were born, my husband and I took turns bringing them to one of our moms' homes for several hours. He'd take them to his mom's, or I'd take them to mine. The arrangement allowed each of us time sans kids, whether at home or out and about.
You can take turns with your partner, or ask family and friends to take care of the baby so you can have a break.
Take the baby with you.
So this doesn't count as alone mommy time, but you can enjoy the things you used to do by taking the baby with you. Go to the farmers market with a baby carrier. Take a walk through the park. Run your usual errands just to get out of the house again.
Perhaps most importantly, you'll feel empowered for challenging yourself to be out and about with the baby. You won't feel stuck at home and can enjoy simple pleasures with your baby.
Make use of nursing, feeding or pumping time.
It's amazing how much time elapses when our babies eat (or when our bodies pump milk). I read a ton of books both when I pumped and nursed my kids. I also watched movies and even hopped on my computer during these stretches of time.
Help your baby fall asleep on his own.
Once your baby is old enough, encourage him to try and sleep on his own. Put him down drowsy but awake. Allow him to suck his hand. Sleep train him so he can go the whole night through. Ever since my kids slept through the night, my evenings have become my regular me time. I can blog (hi!), go to dance classes, read and cook.
Diaper Genie® Elite at Babies R Us makes it easy to find mommy time ideas.
Diaper Genie® is a household name among parents. As the #1 selling diaper pail system, Diaper Genie® is on nearly every baby registry and nursery. And for good reason. The hands-free pail has a 7-Layer Refill Technology that guarantees odor lock protection. An 8-pack refill is good for a year's supply.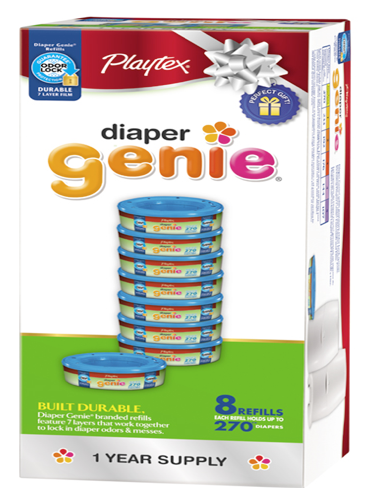 And now, when you buy or register for Diaper Genie products, you can earn points towards eGift cards. How does it work? Buy a Diaper Genie product such as the pail or the 8-pack refill. Then take a photo of your receipt and create a Mommy Time Rewards profile. You even get 300 points just for signing up. Finally, use your rewards towards things you enjoy, from reading a book to enjoying a nice meal out. Mommy Time Rewards wants to make sure you're taken care of, too.
My favorite mommy time? Reading and blogging on a daily basis. I also like watching movies or binge-watching television shows with my husband at night. On a less-regular basis, I like getting dressed up and eating at a restaurant with my husband. We just celebrated seven years and having dinner alone was a nice way to celebrate (where I could eat at my own pace and not scarfing food down with the kids!).
As moms, we won't have all the time in the world. I still cram as much as I can in the evenings. I spend a majority of my time with my family or working towards my family. I doubt I'll have hours on end devoted to just me. But we can still find a few moments to ourselves. A bit of mommy time to rekindle lost hobbies and interests.
Your turn: If given an hour to do anything, what would you do? How about five hours?